NCB International
Since 1988, NCB International – Nuova Costruzioni Brunello has been designing and manufacturing drilling machines for poles, micropiles, diaphragms wall and equipment for special foundations, meeting the most varied drilling needs and types of soil, with performing and innovative solutions.
Versatility, many years of experience and technical skills allow the company to create components and machines tailored to the specific customer requests, always guaranteeing reliability, efficiency and a personalized and continuous technical support.
Important projects around the world
Over 80% of the company's turnover is generated by exports: for years, in fact, studies and companies around the world choose NCB International for the implementation of major civil engineering, construction, geothermal and geotechnical projects.
United Arab Emirates
Spain
France
UK
Japan
Switzerland
Poland
Norway
Germany
Morocco
The widespread commercial network of NCB International reaches these and many other countries, offering expert and qualified advice on the most suitable equipment to tackle the many types of construction sites.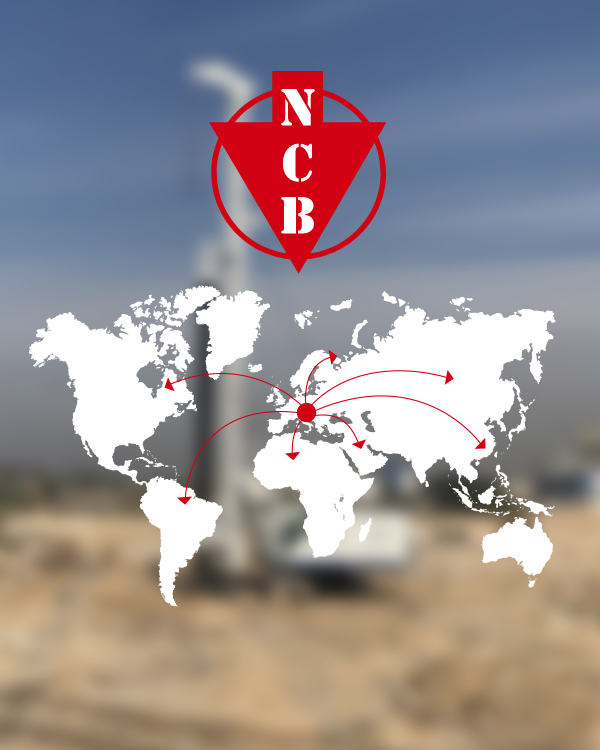 A team of professional experts at your service
The NCB International team is made up of about 40 specialized and competent professionals, most of whom have been employed for over a decade, as many selected external collaborators: people who every day put their experience and enthusiasm at the customer's service, offering solutions and innovative technologies for the realization of its projects.
The legal, administrative and production headquarter is located in Torre di Mosto, near Venice, and cover a total area of 10,000 square meters.
Continuous research and technological development
With a Research and Development department made up by expert and competent technicians, NCB International designs, manufactures and manages systems for special foundations for particularly complex projects, responding to any construction site need, all over the world.
Thanks to the continuous technological research and the constant improvement of the equipment, each order, from the simple drilling tool to the more complex machine, is planned and implemented in full compliance with the highest quality standards, in a precise and punctual way.